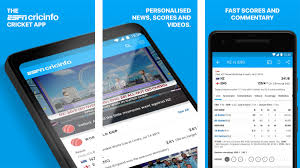 These Android apps let you stay up-to-date with sports scores and much more, wherever you are. For a good number of folks, sports are not merely a pastime; they're a passion and a lifestyle. However, in a world that's increasingly busy, keeping up with your favorite sport can be rather demanding. Live score apps can save the day. These are are an excellent way of turning your Android phone into an all-in-one hub for following the latest sports events. And there are lots of them in the Play Store. We'll show you which live scores apps we recommend for Android users.
1. TheScore
theScore ranks first on our list thanks to its coverage of a wide range of sports events. Whether you're an NBA, NFL, or EPL fan, you can easily keep abreast of all your favorite games in one place. Almost every major league and competition is covered here. In this article we tell you how to watch English Premier League games in the UK, US, Canada, Australia, Germany, and India. The app is not just a one-stop-shop for sports news and scores. You also get other features that bring the game to life. Apart from real-time live scores updates, you can personalize your feed to display only your favorite teams and leagues. If you're a sports better, the app packs some handy tools for you as well, including betting lines, line movements, and comprehensive pregame analyses. Even if you're just a sports lover, you also get to see the hot topics among fans from all over social media. With such extensive functionality and an intuitive interface, it's no surprise that theScore has a 4.7 Play Store rating and over 10 million installs
2. LiveScore
LiveScore is quite similar to theScore when it comes to the range of sports events available. However, in contrast, LiveScore focuses more on soccer. Apart from delivering real-time notifications about the latest basketball, soccer, tennis, and cricket events, the app also lets you stream live soccer for free. However, this feature is only accessible for users in the UK and Ireland. Recently, the app added the Italian Serie A and Primeira Liga games to its live stream list. This is good news for users who don't want to miss out on visual action, even while on the go.
Nonetheless, if you're too busy for the whole experience, the app still presents intriguing live commentary, detailed statistics, pre-match lineups, and the like. If soccer is your major sport, this is surely a no-brainer. Meanwhile, you still get to keep tabs on all the events from other major competitions.
3. CBS Sports
CBS Sports promises to deliver the fastest alerts about all sports-related events. In our experience, the app meets that mark well. It uses push notifications to update you on the latest scores, highlights, tweets, and news. You can personalize all these notifications based on your custom feed configurations. CBS Sports is more mainstream than the first two apps on this list. Because of this, you get a more generally feature-packed sports app. Just like LiveScore, you can stream live sports games. However, you're not limited to soccer only. With a paid subscription, you can stream all your favorite league matches year-round.
As the cherry on top, you can also stream live radio and enjoy great moments with popular legends such as Jim Rome, Tiki and Tierney, and others. Likewise, you can catch up on lots of exclusive events, like NBA Draft Day and NCAA March Madness, right within the app. If you have an Android-powered TV, you can cast and control playback from your Android phone. On the downside, some negative reviews complain about slow updates and certain NFL games being unavailable in their area.
4. ESPN
Another mainstream platform, ESPN offers an Android app with almost everything you'd expect from such a big name. As a basic feature, ESPN updates your feed with the latest sports scores and highlights. Its coverage is equally robust: you'll find content from the NFL to FIFA World Cup and even other minor leagues. But beyond live sports scores, you also get access to numerous ESPN podcasts. Furthermore, if you pay for a monthly or yearly ESPN+ subscription, you get to stream lots of content ranging from live games to exclusive ESPN+ Originals. Unfortunately, the app doesn't enjoy a lot of goodwill from its Android users. It has 3.6 out of 5-star average, but they don't mention the live score functions as an issue. Thus, your mileage may vary.
5. Yahoo Sports
While many think of it as a relic, the Yahoo Sports app has always been a go-to for the latest sports scores, news, and highlights. It might not be as popular as it once was, but the app still sees a decent level of traffic among sports lovers worldwide. Be it tennis, the NBA, MLB, or even college football, you can always stay in the loop with this on your mobile phone. After a recent partnership with BetMGM, the Android app has now attracted more sports bettors. Yahoo Sports lets you keep tabs on line movement history, first-half and second-half lines, lineup changes, and other features gamblers will find useful. You can also get notified based on your favorite teams
6. Bleacher Report
Last but not least on our list is Bleacher Report—an ideal option for fans who want deeper insights into their favorite sports. Besides the regular sports scores, news, and schedule updates, the app also grants you access to in-depth articles, rankings, and predictions on virtually all major sports and leagues. A great aspect about Bleacher Report is that it collects handpicked stories the moment they break online. If you happen to have a fantasy team account, you can easily sync it with the app. This way, you get notified of the latest info about your team players.
Likewise, Bleacher Report goes heavy on social media integration. You can easily share all your sports activities on major social media platforms, such as Twitter. Streaming from different web sources (blogs, social media, online newspapers) is seamless as well With over 10 million installs, the app isn't any less popular than the others here. Download: Bleacher Report (Free)
What Android Sports Scores App Should You Choose?
Live score apps are great for joining in on the action from your favorite sports while on the go. And as we've seen, Android users have a lot of options to choose from in this area. In summary, here are the best sports score apps for particular types of users:
theScore: Wide coverage of major sports events
LiveScore: Ideal option for soccer fans
CBS Sports: Fastest score alerts personalized for you
ESPN: Offers exclusive podcasts and shows on a subscription
Yahoo Sports: Lots of perks for sports bettors
Bleacher Report: Great for fantasy sports and social media integration
Sports fans shouldn't miss out on excellent sports management video games, either. Why not give those a try after you've caught up on real-world scores?