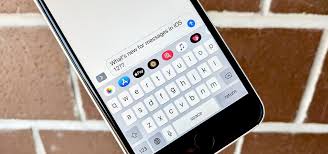 You can do a lot more than just texting with iMessage. Here are other cool iMessage features and apps you must try!iMessage is Apple's internet messaging service for iOS, iPadOS, and macOS users. Back in 2017, Apple paved the way for an even richer iMessage experience with the introduction of iMessage apps, which let you do all sorts of cool new things using the app.You could already send text, voice, picture, and video messages in iMessage. But with iMessage apps, you can play games, share your location, send files, and do even more cool stuff.
How To Install And Use IMessage Apps
It's only possible to use iMessage apps in an iMessage conversation on your iPhone or iPad; that means your outgoing messages should appear in blue.If your messages appear green, then you aren't using iMessage. Find out how to fix iMessage to learn why that might be the case.iMessage isn't working on your iPhone or Mac? Follow these simple tips to get iMessage sending and receiving again.To see your iMessage apps, tap the gray App Store icon near the text input box in any iMessage conversation.
From here, slide along the colored iMessage app icons to view all your apps, or tap one to start using it. Open the blue App Store app to find and download new iMessage apps.Scroll to the rightmost edge of your iMessage apps and tap More to see every iMessage app on your device. Then use the Edit button to choose your favorites, re-order them, or enable and disable particular apps.Many full-size apps include iMessage apps as part of the package. You can enable or disable these add-ons from the Edit page. This is especially handy for sticker packs or useless apps you have no interest in.And that's really all there is to it!
1. Play Games
This one's pretty obvious, but there are many games that lend themselves well to the asynchronous nature of an iMessage conversation. These include favorite apps like GamePigeon and 8 Ball Pool.Playing games is one of the coolest things you can do with iMessage, and we've only scratched the surface of it here. Take a look at all the best iMessage games to learn more about what's available to you.
2. Share Your Location
You can share your location easily with other iMessage users simply by tapping the i button in the top-right corner, then hitting Send My Current Location. This is fine if you want to use Apple Maps, but if you normally use Google Maps—like the rest of the world—install and enable the Google Maps iMessage app instead.You can then hit Send to get an exact location fix and send a Google Maps link to the other party.
3. Send GIFs
Everyone loves GIFs—so why not liven up your conversations with some looping animations? Apple provides you with a cool iMessage app called #images for this task, which is a Bing-powered animated image search, and it does the job fairly well.But if you'd like to step it up, Giphy is the best iMessage GIF app available right now. Use it to create your own GIFs, save your favorites to a collection, and access a far bigger GIF library than what you get with #images.
4. Go Crazy With Stickers
Most of the options you'll find on the App Store are iMessage sticker packs, which allow you to send still images and animations to friends for a quick laugh. The coolest thing about iMessage stickers is that anyone can pick them up, drag them around, and place them over messages or images you've already sent.They aren't exactly useful, but there are stickers available to brighten your everyday conversations and there's at least one pack to fit everyone's taste. For retro tech, check out Apple's Classic Mac and Microsoft's Halo Stickers for free.You can also try out the Bitmoji sticker pack to create your own sticker avatar.
5. Share Some Music
Apple's built-in Music app for iMessage lets you quickly share a song with a friend. Launch it, and you'll find the last few songs you played, along with the currently playing item, which you can send with a tap. This provides them with a playable link, which may or may not be useful depending on whether they use Apple Music or not.Alternatively, install Spotify and use the Spotify iMessage app to send song links that anyone can play for free.If you want to share a song that's playing around you at the moment, use the Shazam iMessage app. Hit the Shazam button and as soon as it identifies the song, you'll find a Shazam link added to the text box.
6. Send Private Or Self-Destructing Text And Media
You can already hide most messages you send in iMessage. Simply type a message or select a photo, then tap and hold on the Send button and choose Invisible Ink.The recipient will need to swipe across the message to reveal its contents, which is a cool trick if you don't want other people glancing at your iMessage conversation.To take this a step further, install Confide to create self-destructing text and photo messages. This app also features end-to-end encryption just like iMessage, and though there are premium options available, the core functionality is completely free.
7. Talk About The Weather
A lot of us spend more time talking about the weather than we should. But if that's something you're happy to lean into, take it a step further by using an iMessage-friendly weather app to quickly check and share the forecast in your chats.Meteored provides basic free forecast sharing functionality. But for $3.99, CARROT Weather is probably the funniest weather app money can buy. It lets you watch or send cool animations in iMessage that also give you up-to-date weather readings across the world.Also, don't miss Weathershot the next time you need to brag about the weather with a selfie, or check out MOON if you're a werewolf.
8. Translate Your Conversation
There are a lot of translation apps on the App Store, but not all of them play nicely with iMessage. It's also worth keeping in mind that translation and language-learning services often require a premium subscription. So the best apps for the job aren't necessarily free.Fortunately, iTranslate offers unhindered access to a huge number of languages for translating. You just need to make sure you're connected to the web, as offline translation requires an in-app purchase. Yandex.Translate is another free option with offline support, but it isn't quite as well-designed as iTranslate.It's a huge shame Google Translate doesn't offer iMessage functionality. Otherwise, it'd probably be the only translation tool you ever need.
9. Find A Film To Watch
Planning a trip to the theater to watch a movie with some friends? Enter IMDb and its iMessage extension, which shows you with a list of films showing nearby (provided you've granted location access) and a searchable IMDb database right from the Messages app.Once you've found something cool to watch, simply select that film from the iMessage app to send an IMDb link to your friend. They can check out the listing and showtimes to let you know what they think.
10. Share Files In The Cloud
iCloud isn't so great when it comes to file sharing, which is why there's no iMessage app for sharing items in your iCloud Drive. But both Dropbox and Microsoft OneDrive have added this functionality. If you use either of these services, you likely already have the app installed. Once installed, each of these apps allows you to browse and share files directly to a conversation. A cool thing you can do with the OneDrive iMessage app is open a file directly into Microsoft's other apps, like Word and Excel.
11. Send A Quick Scan
Although you can scan documents using Notes or Files, neither of these apps let you scan and share documents directly in iMessage. That's where the Scanner Pro ($3.99) iMessage app comes in.If you're not already storing your documents digitally, do yourself a favor and use this cool app to get started. Whenever you need to share a document over iMessage, either select it from the files you already scanned or hover your iPhone over the document to scan it in real time with the camera.
12. Check A Math Formula
Finally, if you're a mathematics student who needs to bounce ideas off your classmates, then Vulcanize is the iMessage app for you. It allows you to convert LaTeX to beautiful mathematical formulas worthy of any printed textbook. Of course, not everyone will agree that this is a cool thing to do with iMessage apps. But if you've ever tried typing a complex mathematical formula into a text in the past, you know how painful it normally is.