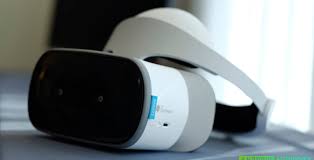 Here are the best VR apps for Android, including VR games, virtual experiences, and more for compatible Android VR headsets. Virtual reality isn't futuristic anymore. VR apps may still be in their infancy, but the market is alive with Google, Facebook, and Samsung all developing their own platforms for mobile and PC. That's what makes Android such a strong platform for VR. The cost of VR headsets for Android is low, while the quality of VR apps is only getting better. Want to try some out for yourself? Here's our shortlist of the best VR apps for Android.
1. Google Cardboard
Cardboard is one of two official VR apps for Android that Google has to offer. It's designed to help you get your Cardboard VR headset set up correctly and give you a tour of basic VR features. You can download Cardboard-supported apps, load VR videos, and see 3D demonstrations. If you want to experiment with Cardboard VR apps for Android, you'll need this app installed. You can even try your hand at making your own Google Cardboard VR headset if you don't have one yet. How to Make Your Own DIY Google Cardboard VR Headset Need some Google Cardboard VR goggles in a pinch? Here's what you need to know about building your own VR headset.
2. YouTube VR
No introductions are necessary for this app: you already know what YouTube does. Its VR add-on for Android takes the experience up a notch by introducing VR playback. You use the same YouTube app, but installing YouTube VR allows you to switch to "watch in VR" mode to enjoy cinematic viewing of your favorite YouTube videos. It's designed to work with all major Android-supported VR headsets, but was created with the Cardboard and Google Daydream headsets in mind.
3. Google Daydream
Google Daydream was the second official VR app from Google. Although no longer actively supported, it still offers plenty of great content. You'll need a Daydream-capable phone, as well as a Daydream View headset, to use this app. The app acts as a portal for other Daydream-supported VR content. You can find VR videos, other compatible apps, and configuration for setting up your Daydream headset.
4. Fulldive VR
If you're looking for a VR-focused platform that offers you everything from web browsing to photo storage, Fulldive VR is the app you need. It provides you with its own store containing hundreds of VR-capable apps to install and operate through the Fulldive VR portal. You're also able to take 360-degree photos and videos thanks to the app's VR camera. You can also check out millions of YouTube videos available through the app as part of a 360 3D or VR experience. The app works with any Android-capable headset, including Oculus, Daydream, and Cardboard.
5. Titans Of Space
Some types of visuals naturally lend themselves to an immersive VR experience. One of those visuals is the solar system. Titans of Space takes you on a guided tour of our home in the universe, exploring all eight planets, some of the larger moons, and nearby stars. Everything is shrunk to one-millionth of its actual size, giving you a sense of scale and perspective as you fly around. You can control the speed and level of detail included in the tour, as well as the type of music used.
6. InCell VR
VR gaming is still somewhat of a novelty at this stage, but that's what makes InCell VR special. It's an educational-themed game for kids who want to learn a bit about the human body. The player takes the role of a human defender from the 2100s, shrunken down to fit inside the human body. Your role is to travel around the body while fighting off the flu virus and learning some human biology as you go. It's fun to play, looks great, and sounds even better.If you want to test it without VR, you can switch to the non-VR mode by holding your finger down on the screen.
7 Minos Starfighter VR
No virtual reality technology would be complete without a suitably futuristic space shoot 'em up to play. That's where Minos Starfighter VR comes in. It's a visual spectacle that turns you into a space fighter pilot, battling alien enemies across different space environments. The quality of the graphics and sound alone make it one of the best immersive VR Cardboard apps on the Play Store today.
8. Netflix VR
Netflix has supported VR for some time; it was one of the earliest adopters of VR for Android. The Netflix VR app for Android lets subscribers watch content through major VR headsets like Oculus, Daydream, and Cardboard. You get two viewing modes with this app. The first is a rustic living room experience and offers a static view of your media content. The second, a void experience, immerses you in your TV or movie by moving the content to match your eye movement. There's no VR-specific content on Netflix at present, but you can watch the full Netflix catalog (sans 3D). Once VR goes mainstream, expect Netflix to start adding VR content to its lineup, pronto.
9. VR Thrills: Roller Coaster 360
Why bother going out when you can get your thrills indoors? This game, as you might expect from the name, gives you the ultimate VR roller coaster experience. It's one of the most popular VR games in the Play Store, with over 10 million installations. You get to experience real-life roller coasters, thanks to pre-recorded 360 videos or more basic 3D-modeled roller coasters. The game is "optimized" for Google Cardboard headsets but if you'd prefer, you're able to play the game without a headset using your phone's touch controls.
10. Expeditions
There's no better place to show off the potential of virtual reality apps than in the hands of children. Thanks to Google's Expeditions app, that potential is unlocked. Students and educators can use Expeditions to explore virtually recorded landmarks across the globe. The app lets you share the same trips with other headsets, so it's perfect for small classroom groups. There are over 900 different tours for you to try out, ranging from mountain ranges to museums. As it's a Google app, it's been designed for Google Cardboard or Daydream headsets.
The Best VR Apps For Android Are Still To Come
Google is leading the way with in mobile VR with platforms like Cardboard. If you're looking to experience the best VR apps for Android available right now, start with the Cardboard and Daydream apps for the best mobile VR experience. But when you're looking for the best VR apps, the future is going to surprise you. Though the technology is still in its infancy, VR is gradually becoming mainstream. Get ready for what comes next.